Indigenous foods summit showcases traditional foods and discussion around food sovereignty
If you had wandered into the UW wǝɫǝbʔaltxʷ - Intellectual House on Saturday, you would have gotten a taste, quite literally, of ancient tradition. Seal oil, berries, Douglas fir tea, and numerous other plant and animal foods that have nourished traditional Native cultures for millennia were on offer to taste.
The occasion was the third annual summit around indigenous foods held by the UW American Indian Studies department. Panelists invited from across Native North America shared stories, teachings, and insights from their cultures and professional lives. [...]
"When I look back at our treaties and how they were negotiated here and how my ancestors thought was top priority, it was about access to food, having access to all of the elk, the deer, the salmon, the shellfish, the berries, the roots, medicines and the cedar tree," Segrest said. "Because we know that when these things cease to exist, then so do we as a people. When we eat our foods, we maintain our identity." READ MORE
US selects Alaskan Native villages for next round of START Project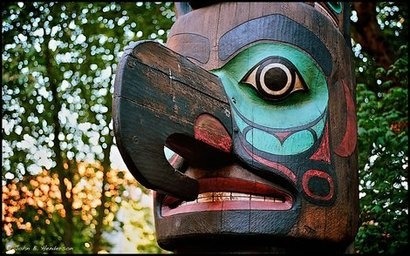 START provides federally recognised Alaska Native Corporations and federally recognised Alaska Native governments with technical assistance to accelerate tribal clean energy projects and initiatives. It supports tribal communities across the US in order to enhance their energy security, build a sustainable future and combat climate change. It is a competitive technical assistance programme that assists Alaska Native corporations and villages with accelerating clean energy projects and aims to reduce the cost and use of energy for rural Alaska consumers and communities, increase local capacity, energy efficiency, and conservation through training and public education, and increase renewable energy deployment and financing opportunities for communities and utilities. 
"Alaska Native communities face urgent energy, economic, and environmental impacts" said Sherwood-Randall. "Through the START Program, the Department of Energy is directly involved in supporting Alaska Native villages and corporations to develop and implement innovative, sustainable solutions." READ MORE
Elon Musk's Tesla Battery + SolarCity's Solar Systems 
= Clean Energy Future
Following months of anticipation, Tesla founder Elon Musk last week unveiled a suite of batteries for homes and businesses that he says will "fundamentally change the way the world uses energy." And while this is huge news from the electric carmaker, the biggest initial impact it'll make will be for SolarCity and its customers looking to untether from Big Power.

The San Mateo, California-based solar supplier is the first in line to incorporate Tesla's new batteries, offering a "turnkey residential solar battery backup system" at a price point that's more than 60 percent less than previous solar power storage products, SolarCity announced. 
SolarCity has already started taking orders for Tesla's residential batteries and will begin installations in October. According to Bloomberg, customers can prepay $5,000 for a nine-year lease on a 10 kilowatt-hour system. Customers can also buy the entire system for $7,140. The prices reportedly include installation, a maintenance agreement, the electrical inverter and control systems. READ MORE
Esther Cepeda: Journalists' effort teaches poor to tell their own stories
When journalists get the opportunity to share and collaborate with those they report on -- to give something back rather than simply taking their photos or their statements -- it can be life-changing.
On May 1-2, an inaugural regional conference focused on poverty gathered a group of journalists to train residents of South Dakota's Pine Ridge Indian Reservation on media literacy, multimedia skills and entrepreneurial journalism. In most cases, the reporters, who were members of the group UNITY: Journalists for Diversity, traveled to the homeland of the Oglala Sioux Tribe at their own expense. [...]
"As an organization, we decided we're not going to resorts anymore, we're going to focus on poverty and go to those who have been forgotten," said UNITY President Russell Contreras, a reporter for The Associated Press who works in the New Mexico bureau. "The event was designed to teach the people there to tell their own story through social media, through investigative journalism and to take steps to empower themselves through research and access to public information." READ MORE

Categories: News Rolls